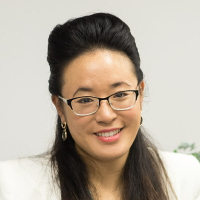 Mental health conditions are real, common and treatable.
And recovery is possible.
Cindy Kao is an experienced, licensed Medical Health Professional who specializes in affordable online therapy.
More about me
Licensing: PsyD, LPC
Years in Practice: 10
Hello! My name is Dr. Cindy Kao, and I have my Doctorate in Clinical Psychology from The Chicago School of Professional Psychology and I am a Licensed Professional Counselor with over 10 years of experience in psychotherapy as well as a university lecturer and professor. I specialize in relational work, daily stressers, feelings of loneliness, worry, grief and trauma, dealing with change, parenting, and women's issues. I am a Dialectical Behavioral Therapy-informed clinician, and often utilize mindfulness and cognitive-behavioral interventions. However, I will tailor our work together to meet your unique and specific needs.

My counseling style is warm and interactive. I believe in the authentic connection between client and therapist and a person's power to change as well as treating a person with respect, sensitivity, and compassion. I believe that often, our first examples and models of how to behave and think begin in our childhoods, and sometimes we struggle to relearn a better way to deal with our world.

Sometimes, our lives are going fine, until they aren't. It takes courage to recognize when you need help, and it isn't easy to seek a happier and fulfilling life as well as taking those first steps towards change. If you are ready and willing to take that step, I am here to support and empower you.

I look forward to working with you!
About online counseling
Online counseling allows you to receive care from an online mental health practitioner via phone, video chat, or instant messaging. It is convenient for those who may have trouble getting to or would prefer not to have in-person therapy appointments. Ranging from $35 to $80 per week, online counseling is generally more affordable than in-person counseling. A study by researchers at University of California, Berkeley found that online counseling can be just as effective as face-to-face therapy while being more convenient, affordable, and accessible.
Try online counseling with Dr. Cindy Kao
Chat now
Issues

Stress

Anxiety

Depression

Coping with life changes

Compassion fatigue

Addictions

LGBT

Trauma and abuse

Grief

Parenting issues

Self esteem

Career difficulties

Coaching

Languages Spoken

English
Services offered
100% confidential · No judgment
When you tap CHAT NOW a new window will open and you'll be directed to a simple form that will help start the conversation.