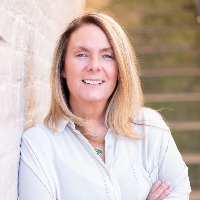 LPC, RPT, CSAC
Jeanne Brown
Mental health conditions are real, common and treatable.
And recovery is possible.
Jeanne Brown is an experienced, licensed Medical Health Professional who specializes in affordable online therapy.
More about me
Licensing: LPC, RPT, CSAC
Years in Practice: 10
My name is Jeanne Brown and I am very happy you reached out and look forward to working with you!

I want to provide you with an understanding of my mental health training and experience. My hope is that you will receive clarity through the discussion of my counseling approach, values and goals for our therapeutic relationship.

I am a Licensed Professional Counselor (LPC) in both New York State and Virginia, Registered Play Therapist - Supervisor (RPT-S) and Certified Substance Abuse Counselor (CSAC). I graduated from Capella University and earned a Master's degree in Human Services with a specialization in Mental Health Counseling and moved to Virginia where I improved my skills and expertise. I obtained a Certificate in Contemporary Theory of Compulsive and Addictive Behavior and a Certificate in Play Therapy from Capella University.



I have worked in Virginia in the mental health profession as an individual, family and group therapist since 2012 and before that, in New York State since 2010. I have over 30 years of experience working with children, adolescents, parents, adults, families and groups in many different roles.

Counseling is both multi-faceted and multi-cultural; empathy, sensitivity, and the ability to adapt are important factors in implementing therapist and individual roles. The relationship between therapist and the individual is one of common choice exploring human needs and goals culminating in the wellness of the person. The individual remains the central priority in the counseling relationship. I utilize a non-directive person-centered approach, which provides a safe and secure environment where individuals can explore strategies to effectively grow and make healthy changes in their lives.



My passion is working with adults, adolescents and children and adolescents with substance use issues, anxiety, depression, anger, and defiant behaviors. I have worked in a community-based setting, an outpatient setting and held several administrative roles. I utilize a non-directive person-centered approach when working with adults. My belief is that individuals know what they need to do to make improvements in their life, and by taking an active lead, will discover their own solutions. My role is to provide support, empathy and acceptance as their growth takes place. I also utilize a non-directive person-centered Play Therapy approach when working with children and adolescents. Play Therapy is a way of helping children cope with distress, using play as the medium of communication between child and therapist. The method is based on the central assumption that play is the way that children communicate, explore their environment and eventually work through their challenges. It is the child's way of making sense of their environment.

You are welcome to message me anytime through Better Help. Having access to a counselor to reach out to for support and encouragement is extremely beneficial for most and a great change from traditional counseling. I usually check my messages at least two times per day, everyday. I offer messaging, live chat and phone sessions.

I look forward to meeting you!


About online counseling
Online counseling allows you to receive care from an online mental health practitioner via phone, video chat, or instant messaging. It is convenient for those who may have trouble getting to or would prefer not to have in-person therapy appointments. Ranging from $35 to $80 per week, online counseling is generally more affordable than in-person counseling. A study by researchers at University of California, Berkeley found that online counseling can be just as effective as face-to-face therapy while being more convenient, affordable, and accessible.
Try online counseling with Jeanne Brown
Chat now
Issues

Stress

Anxiety

Addictions

Relationship issues

Family conflicts

Depression

LGBT

Trauma and abuse

Parenting issues

Anger management

Self esteem

Bipolar disorder

Coping with life changes

Compassion fatigue

ADHD

Languages Spoken

English
Services offered
100% confidential · No judgment
When you tap CHAT NOW a new window will open and you'll be directed to a simple form that will help start the conversation.