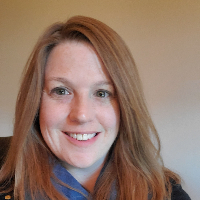 MA, LPC
Rebecca Simmerman
Mental health conditions are real, common and treatable.
And recovery is possible.
Rebecca Simmerman is an experienced, licensed Medical Health Professional who specializes in affordable online therapy.
More about me
Licensing: MA, LPC
Years in Practice: 15
Welcome! It takes courage to seek a more fulfilling and happier life as well as to take the first steps towards a change. If you are ready to take that step I am here to support and empower you.

I am a Licensed Professional Counselor in Virginia who graduated from Argosy University in 2006 with a master's degree in Clinical Psychology. I have over 10 years of experience working with individuals and families who are experiencing symptoms of depression, anxiety, stress, employment issues, parenting concerns, relationship problems, PTSD, OCD, ADHD, and suicidal ideation.

My counseling style is warm, interactive, and compassionate. I am a strong believer in treating all individuals with respect, sensitivity, and that mental health symptoms are not defining of the person. I utilize cognitive behavioral, humanistic, psychodynamic, rational-emotive counseling, and strength based empowerment approaches. I actively work in therapy sessions to meet your specific needs and help you arrive at insights. We will work together to implement strategies and tools you can begin using immediately. Most importantly, we will work together to make sure progress is being made on the goals you have set for yourself.

I look forward to working with you!

"Our deepest fear is not that we are inadequate. Our deepest fear is that we are powerful beyond measure. It is our light not our darkness that frightens us the most. We ask ourselves, who am I to be brilliant, gorgeous, talented, fabulous? Actually, who are you not to be?"

Marianne Williamson


About online counseling
Online counseling allows you to receive care from an online mental health practitioner via phone, video chat, or instant messaging. It is convenient for those who may have trouble getting to or would prefer not to have in-person therapy appointments. Ranging from $35 to $80 per week, online counseling is generally more affordable than in-person counseling. A study by researchers at University of California, Berkeley found that online counseling can be just as effective as face-to-face therapy while being more convenient, affordable, and accessible.
Try online counseling with Rebecca Simmerman
Chat now
Issues

Stress

Anxiety

Relationship issues

Family conflicts

Parenting issues

Depression

Addictions

LGBT

Trauma and abuse

Grief

Intimacy-related issues

Sleeping disorders

Anger management

Self esteem

Career difficulties

Bipolar disorder

Coping with life changes

Coaching

Compassion fatigue

ADHD

Languages Spoken

English
Services offered
100% confidential · No judgment
When you tap CHAT NOW a new window will open and you'll be directed to a simple form that will help start the conversation.