Licensed
Online Counseling
Accepts International Clients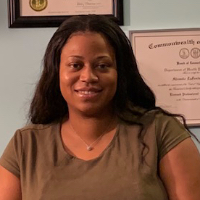 M.Ed, NCC, LPC
Shameka Clark-Savage
Mental health conditions are real, common and treatable.
And recovery is possible.
Shameka Clark-Savage is an experienced, licensed Medical Health Professional who specializes in affordable online therapy.
More about me
Hello All,

My name is Shameka Clark-Savage and I was born and raised in Virginia. I completed my undergraduate degree in Liberal Arts & Education and Masters of Education in School/Community Counseling at Virginia State University. I completed my internship providing outpatient therapy for a Christian Counseling organization where I worked with an array of disorders and life changing situations. I also worked at The James House which is a domestic violence shelter/safe haven for individuals who have experienced physical abuse or sexual trauma at any point in their lives. Throughout my counseling experience I've had the pleasure of working with individuals experiencing grief, depression, career changes, relationship concerns, and stress related issues. I've worked with individuals with diagnoses of Bipolar, Major Depression, Anxiety, ADHD, OCD, PTSD, and Schizophrenia. My strengths are I am very resourceful and really take pride in helping individuals access those resources.

My Therapeutic approach focuses on the Cognitive Behavioral Approach. I thoroughly believe that if you can change the way that you think and approach a situation then you can change the behavior and outcome. I love when my clients are able to find the happy medium and able to function at their best potential possible. With the twists and turns of life you may find yourself having difficulties juggling it all or maintaining your sanity. Let me help you figure it out. Your mental health is vital and I'm glad that you have taken the time to focus on your self-care. I look forward to working with you through your process.
About online counseling
Online counseling allows you to receive care from an online mental health practitioner via phone, video chat, or instant messaging. It is convenient for those who may have trouble getting to or would prefer not to have in-person therapy appointments. Ranging from $35 to $80 per week, online counseling is generally more affordable than in-person counseling. A study by researchers at University of California, Berkeley found that online counseling can be just as effective as face-to-face therapy while being more convenient, affordable, and accessible.
Try online counseling with Shameka Clark-Savage
Chat now
Issues

Stress

Anxiety

Anger management

Career difficulties

Depression

Coping with life changes

Addictions

Family conflicts

Grief

Self esteem

Coaching

Languages Spoken

English
Services offered
100% confidential · No judgment
When you tap CHAT NOW a new window will open and you'll be directed to a simple form that will help start the conversation.