Licensed
Online Counseling
Accepts International Clients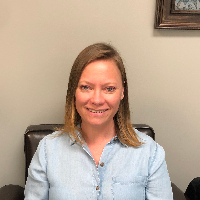 Mental health conditions are real, common and treatable.
And recovery is possible.
Brandie Carlton is an experienced, licensed Medical Health Professional who specializes in affordable online therapy.
More about me
Licensing: LCSW
Years in Practice: 3
I am a Licensed Clinical Social Worker with over 6 years of experience. I have experience working with clients who are dealing with symptoms associated with anxiety and depression. I also work with clients who's low self-esteem affects their depression and anxiety. Many clients that I work with have a history of trauma so we work on identifying how their trauma and life stressors affect their current ability to function.

My approach is person-centered and non-judgmental. I work hard to proved a safe and comfortable space in order to foster a strong therapeutic connection with clients. We will work together to develop treatment goals and will review progress regularly.

I work within a client-centered orientation and have training in cognitive behavioral therapy (CBT), motivational interviewing (MI), and positive psychology. I use CBT to assist with identifying thoughts that are distress or negatively impacting your life and we work to challenge or replace those thoughts. MI is used to identify goals, establish steps to achieving goals, and decrease any barriers. Positive psychology is used to increase self-esteem and strengthen self-confidence.

I look forward to meeting you and helping you on your journey to a more peaceful and stronger you!
About online counseling
Online counseling allows you to receive care from an online mental health practitioner via phone, video chat, or instant messaging. It is convenient for those who may have trouble getting to or would prefer not to have in-person therapy appointments. Ranging from $35 to $80 per week, online counseling is generally more affordable than in-person counseling. A study by researchers at University of California, Berkeley found that online counseling can be just as effective as face-to-face therapy while being more convenient, affordable, and accessible.
Try online counseling with Brandie Carlton
Chat now
Issues

Stress

Anxiety

Trauma and abuse

Self esteem

Depression

LGBT

Relationship issues

Family conflicts

Grief

Intimacy-related issues

Parenting issues

Coping with life changes

ADHD

Languages Spoken

English
Services offered
100% confidential · No judgment
When you tap CHAT NOW a new window will open and you'll be directed to a simple form that will help start the conversation.