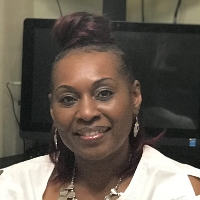 Mental health conditions are real, common and treatable.
And recovery is possible.
Olivia Adams is an experienced, licensed Medical Health Professional who specializes in affordable online therapy.
More about me
Licensing: LPC, CSAC
Years in Practice: 15
"We delight in the beauty of the butterfly, but rarely admit the changes it has gone through to achieve that beauty." Maya Angelou

I am Olivia Adams from Richmond, Virginia, and I am invested in transforming lives. Change can be a challenge and it can be uncomfortable to feel vulnerable; however, I am proud to say that I have had the pleasure and privilege to witness and be a part of vast transformations of numerous lives over the past 15 years.

As a Licensed Professional Counselor (LPC) and a Certified Substance Abuse Counselor (CSAC), I have assisted many men and women with rehabilitation from addiction, incarcerations, mental illness, and trauma. I majored in Rehabilitation Counseling and Psychology with a minor in Substance abuse, which has enabled me to have a broad perspective and a wide scope in being an effective helping professional.

The therapeutic approaches that I find most effective are Person Centered Therapy, Cognitive Behavioral Therapy, and Solution Focused Brief Therapy. Although those have been found to be most effective in my experience of counseling, I am not limited to those approaches, as I embrace the philosophy "To meet you where you are." With that being said, my goal is to be supportive and empathetic with open and honest communication to reach the personal goals of my clients. I have had the privilege to be trained in various therapeutic approaches; therefore, will utilize whichever approach deems most effective to meet my clients' needs.

Overall, my hope is to work WITH you and to support you in making radical changes to achieve YOUR transformation.


About online counseling
Online counseling allows you to receive care from an online mental health practitioner via phone, video chat, or instant messaging. It is convenient for those who may have trouble getting to or would prefer not to have in-person therapy appointments. Ranging from $35 to $80 per week, online counseling is generally more affordable than in-person counseling. A study by researchers at University of California, Berkeley found that online counseling can be just as effective as face-to-face therapy while being more convenient, affordable, and accessible.
Try online counseling with Olivia Adams
Chat now
Issues

Stress

Anxiety

Addictions

Self esteem

Depression

Relationship issues

Trauma and abuse

Grief

Anger management

Bipolar disorder

Coping with life changes

Languages Spoken

English
Services offered
100% confidential · No judgment
When you tap CHAT NOW a new window will open and you'll be directed to a simple form that will help start the conversation.